Last month in November, Jun Ji Hyun was chosen as the top CF model of 2014. On December 22nd, CM Value shared on their website that the top three CF models includes Jun Ji Hyun, Kim Yuna, and miss A's Suzy.
The models were ranked based on their MRP (Mind Rating Points) scale, which is based on positive feedback. Jun Ji Hyun, Kim Yuna, and Suzy have been the top three CF models for 10 months. Figure skating queen, Kim Yuna had the top MRP score back in July, but Jun Ji Hyun is currently in the lead with 10.76%.
After the release of the hit drama You Who Came From the Stars, Jun Ji Hyun has reclaimed the name "CF Queen." Jun Ji Hyun has been modeling for brand names popular amongst women in their 30's, but she her current CF modeling career has been as successful as her CF modeling in her 20's.
Kim Yuna placed second on the chart with an MRP score of 8.82%. Kim Yuna has been consistently working with SK Telecom ads and modeled for Maxim White Gold, E1, Post, and Samsung.
Suzy came in third with 6.43% MRP. Suzy's CFs are popular amongst fans, because of the feeling of familiarity and the innocent image that is portrayed in the commercials. Though Suzy placed third on the MRP scale, she is the idol who made the most CF appearances.
Kim Soo Hyun, who co-starred with Jun Ji Hyun in You Who Came From the Stars, placed after Suzy on the MRP scale. Kim Soo Hyun's popularity immensely increased in other Asian countries after the drama and received a 4.51% MRP score, making him the first male CF model on the top 10 chart.
The order of the top 10 models who placed after Kim Soo Hyun are Lee Seung Gi, Kim Woo Bin, Yoo Jae Suk, Kim Tae Hee, Hyun Bin, and Won Bin.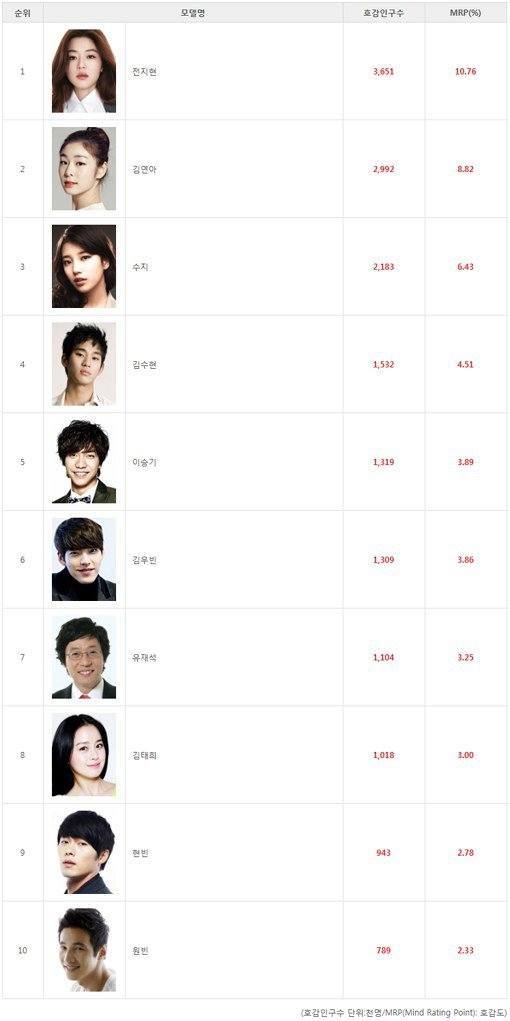 Source: SportdongA
Share This Post